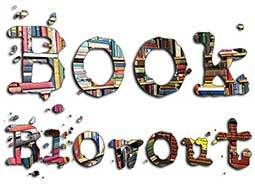 I set a goal of 12 books in July, and I ended up with a baker's dozen. I finished my thirteenth book shortly before midnight on July 31st. This puts me at 55 books for the year, so I'm well on my way to my conservative goal of 75 books for the year.
Doctor Who: Wetworld

by Mark Michalowski
The White Mary by Kira Salak

Tan Lines

by J.J. Salem

What the Dormouse Said

by Amy Gash

Aberrations

by Penelope Przekop

Kaimira: The Sky Village

by Monk and Nigel Ashland
The Ruby in the Smoke by Phillip Pullman

The Perks of Being a Wallflower

by Stephen Chbosky

Tales of the Supernatural: Volume 1

by M.R. James (audiobook)

Girl with the Pearl Earring

by Tracy Chevalier

The Wednesday Sisters

by Meg Waite Clayton

A Murder is Announced

by Agatha Christie
The Silent Gondoliers by William Goldman
Questions from the Book Blowout Challenge:
1. Did you discover a new author?
Several. Only two of the books that I read this month (A Murder is Announced by Agatha Christie and The Silent Gondoliers by William Goldman) were by authors that I'd read before.

2. Where was the most unusual place you found yourself reading?
I didn't read anywhere particularly unusual, but I did read in spots that were unusual for me. Normally I do most of my reading in bed before I go to sleep, but I found myself reading downstairs in the living room quite a bit more than I usually would.

3. Did you read more than usual?
A little bit. I read 8 books in May and 9 in June, so 13 in July was a bit more than average. My previous best for a month this year was 12 in January.
4. Did you give up anything in order to read more?
I watched less television, but I can't say that I mourned the loss.
5. If you won the Amazon voucher what would you spend it on?
More books, of course. I want to pick up a copy of
The Lace Reader
by Brunonia Barry and
The Guernsey Literary and Potato Peel Pie Society
by Mary Ann Shaffer since I've been hearing such great things about them on various blogs.
6. Would you like to see a 2009 Book Blowout?
Sure! I had a lot of fun with this challenge and would definitely participate in it again next year.